In the world of fashion, there are timeless classics and then there are contemporary essentials. When it comes to outerwear, nothing combines the best of both worlds quite like Speedwear Ltd's collection of Men's Waxed Jackets. These jackets are not only functional but also exceptionally stylish, making them the perfect choice for fashion-forward individuals and motorbike enthusiasts alike.
Stylish Waxed Jackets for the Modern Man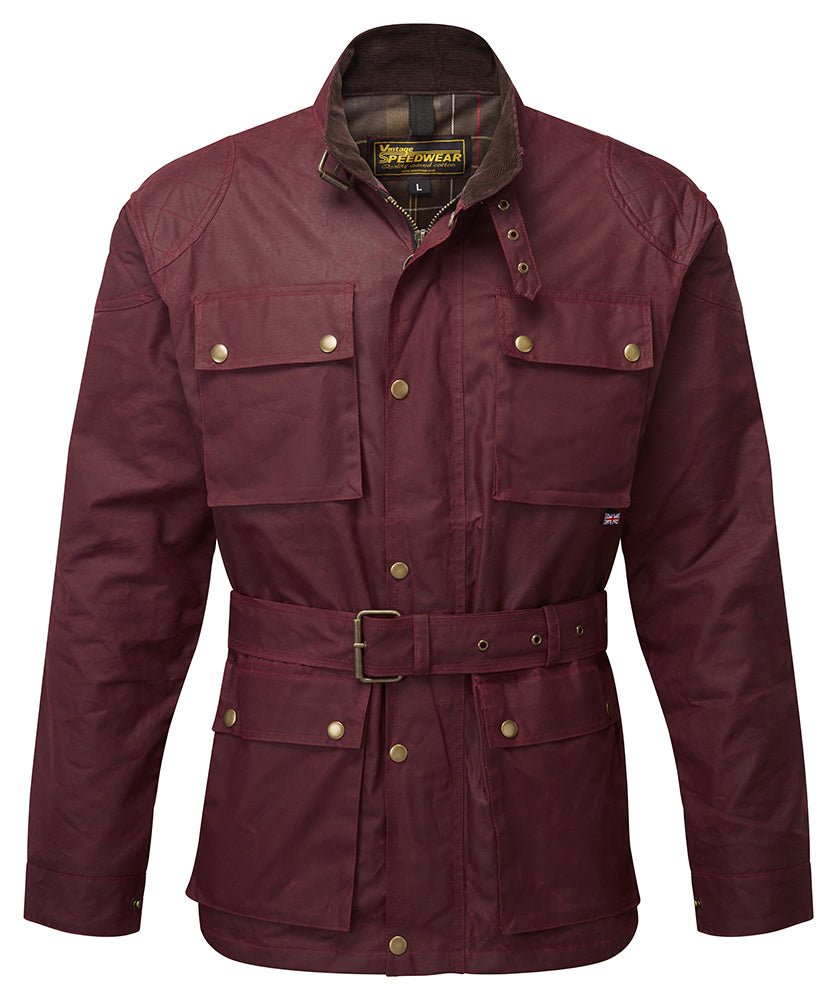 At Speedwear Ltd, we understand that every man's wardrobe deserves a touch of sophistication. Our collection of Men's Waxed Jackets is designed to deliver just that. Crafted with precision and attention to detail, these jackets effortlessly blend style and substance.
One of our standout products is the Oxblood Classic Waxed Cotton Motorcycle Jacket. This jacket exudes rugged elegance, making it an ideal choice for those who appreciate a classic look with a contemporary twist. Whether you're riding your bike through the city streets or heading out for a casual evening, the Oxblood Red Classic Jacket is sure to turn heads. Note: This waxed jacket has no protection so an armored shirt would be required for protection on a motorcycle.
For those who prefer a more traditional look, we offer the Classic Wax Cotton Motorcycle Jacket. This piece of outerwear is the epitome of timeless fashion. Its understated design and rich waxed cotton finish make it an essential addition to any wardrobe. Whether you're commuting to work or going on a weekend adventure, the Classic Jacket has got you covered.
---
Suggested Read: Discover the Best Motorcycle Jackets for Sale at Speedwear Ltd.
---
For the Motorcycle Enthusiast
If you're an avid motorbike rider, Speedwear Ltd. has you in mind too. Our Pulford Black Wax Cotton Motorcycle Jacket is not just a jacket; it's a statement piece for motorbike enthusiasts. Designed with your safety and style in mind, this jacket offers a blend of durability and elegance that is second to none. Hit the open road with confidence, knowing you're wearing a jacket that can handle the rigors of motorbike riding.
At Speedwear Ltd, we prioritize quality and comfort. Our waxed jackets are made to withstand the elements, keeping you warm and dry in inclement weather while ensuring breathability and flexibility.
In conclusion, whether you're a fashion-conscious individual looking to make a statement with your style or a dedicated motorbike rider in search of reliable outerwear, Speedwear Ltd's Men's Waxed Jackets offer the perfect combination of style and functionality. With options like the Brown Gresford, Classic Wax, and Dark Green Classic, you're sure to find the ideal waxed jacket to suit your needs. Elevate your wardrobe with Speedwear Ltd. and experience the perfect fusion of fashion and function.
Choose Speedwear Ltd for men's waxed jackets that redefine style and offer unparalleled performance. Don't compromise; ride in style and comfort with our top-notch products.